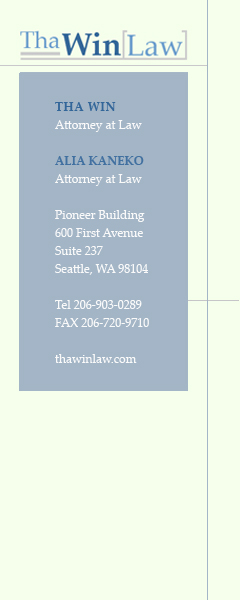 More About Tha Win
Tha began his legal career in 1988 at the Inner City Law Center, a small storefront free legal clinic in the Skid Row district of Los Angeles, where he represented clients in public benefit cases, evictions, class actions and actions for damages and injunctive relief against slum owners. Tha also volunteered at the Central American Refugee Center representing individuals from Central America seeking asylum in the United States . Before moving to Washington in 1993, Tha was the Homeless Project attorney at the Los Angeles Legal Aid Foundation, serving as counsel in class actions brought by the Homeless Litigation Team against government entities on behalf of people who were homeless (in coordination with the ACLU and the Western Center on Law and Poverty).
From 1996 to 1998 Tha was a staff attorney at Columbia Legal Services where he worked primarily on issues relating to public benefits for people with disabilities and health problems. His advocacy resulted in the Department of Social and Health Services adopting a policy and rules intended to ensure access to assistance programs for people with disabilities. He was a lead advocate for the program in the area of Social Security disability practice.  While at Evergreen Legal Services, he co-founded the Refugee and Immigrant Advocacy Project, collaboration between the University of Washington School of Law and the Northwest Justice Project.
Tha immigrated to the United States from Burma . This experience, as well as his many years fighting for the rights of people with disabilities, inspires his empathy for those who face barriers in seeking the benefits to which they are entitled.  Tha is committed to working to bring down those barriers.  He strives to ensure that his services are accessible to all individuals by providing accommodations, interpreters, and routinely meeting with clients in their homes or other convenient locations. He is skilled and experienced in working with immigrants, people who are homeless and individuals who may have difficulty communicating due to their health problems including cognitive or other difficulties. Tha often accepts cases which are turned away by other attorneys who consider them too difficult or lacking in profit potential. He is known in the community as a resource for these extremely difficult cases and is very proud of his record of producing successful outcomes.